Older posts:
Honorable Mentions
,
100-91
,
90-81
80. The Flaming Lips -

Embryonic
By this time, I should have learned that you can never predict the sound of a Flaming Lips album. Embryonic not only thwarted the predictable, but pretty much went off the charts of current scientific theory....if that makes sense (if not, whatever, it's the Flaming Lips). Embryonic is not a subdued Lips album, despite lacking the sugar-pop highlights of
The Soft Bulletin
and
Yoshimi Battles The Pink Robots
; this is a heavy, paranoid experience. Opener "Convinced of the Hex" sets a pretty ominous tone; it's the Lips equivalent of "Tomorrow Never Knows." "Powerless" is the best song they've done in years, a song you really must listen to with headphones. On one side is the four-note baseline and the other is the -- I don't know what to describe them -- exploding cymbals? Then at about 2:00, the psychedelic guitar comes in. It's near perfect.
79. Vampire Weekend -

Vampire Weekend
You wouldn't think a band as pleasant and bubbly would be perhaps the most polarizing act of the decade. Derided by many as obnoxious and low-on-substance, my theory is that they're all just jealous. Even if you're embarrassed to tell people you like it, Vampire Weekend's self-titled debut is a dizzyingly fun 11 songs on teenage love, educational inquiries, and African dancing...kind of. "Cape Cod Kwassa Kwassa" sums it up. Imagine watching one of those nonprofit promotional videos from Ghana. The ones where all the kids and workers are dancing together, because they're all happy. Also, Peter Gabriel covered the song because he's referenced in it. Awesome.
78. Outkast -

Stankonia
Most certainly the hip-hop album of its year, Stankonia saw the collaboration of Andre 3000 and Big Boi at its most electric, before they started to work on their own projects. Like most listeners, I first heard Stankonia on the radio, through singles "So Fresh, So Clean" and "Ms. Jackson." "B.O.B." is just too much for the radio, but it's the album's centerpiece and holds up as the definitive musical statement from this essential hip-hop duo.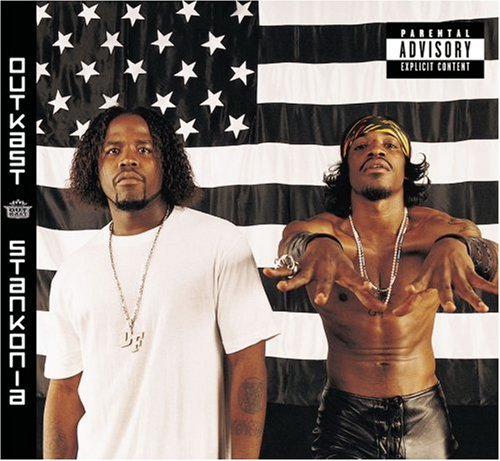 77. Bon Iver -

For Emma, Forever Ago
In case you don't know, here's the quick version. Justin Vernon broke up his band, moved into the woods in Wisconsin and recorded an album. He didn't think anyone would ever hear it (which is pretty much the only similarity For Emma, Forever Ago shares with my screenplays), but when indie label Jagjaguar heard it, well, that was it. It helps to know the story, because you want to be in the woods when you're listening, contemplating loneliness, loss, misty morning air, and the like.
76. The National -

Alligator
Now here's one that took me by surprise. At a time when the straight-up slack pop of The Postal Service and its variants were dying out and attention turned to the synth and drum beats of Daft Punk's descendants, The National came along with music that defied everything modern, by creating something remarkably simple and beautiful. Though The National have recently released another masterpiece in
High Violet
,
Alligator
will always be their breakthrough. When Matt Berninger's deep, affecting voice comes through in the opening seconds of "Secret Meeting," it's as if something very familiar, very comforting but sad, has emerged from a room in your house that's always been there, even if you didn't know it.
75. Nick Cave and the Bad Seeds -

No More Shall We Part
In a decade that saw Nick Cave become a more active film composer and screenwriter, his 2001 album
No More Shall We Part
is a beautiful collection of vaguely-religious odes to love and illness. Though
No More Shall We Part
is technically the follow-up to 1997's equally awesome
The Boatman's Call
, the two couldn't be more stylistically and thematically different (in between the two albums, Cave fought heroin and alcohol addiction). The album has Cave at his grungiest ("Fifteen Feet of Pure White Snow") and the Bad Seeds at their most wonderfully restrained ("Gates of the Garden"). Warren Ellis definitely gets his chance to shine, though (most notably on "Hallelujah," which he co-wrote).
74. Animal Collective -

Here Comes The Indian
To call
Here Comes The Indian
a lesser Animal Collective album is like calling
Let It Be
a lesser Beatles album. These days, nobody will think
Here Comes The Indian
at first mention of Animal Collective, the band that took pop music and turned it on its head. This was them before "Fireworks" and "My Girls," before even "Leaf House," when they were still just a confused band of wanderers, banging on bamboo drums out in the forest. This is tribal music, with the songs hidden within. If you're in the right mode, that is...if you're able to transform your dark room into the enclosed circle of the woods where
Twin Peaks
' red room becomes visible, listen to "Infant Dressing Table" and feel the trees come alive. This is genius that would soon give birth to even greater genius.
73. Radiohead -

In Rainbows
When I first bought
In Rainbows
(for $5, or £3.38?) I didn't know what to make of it. I was initially underwhelmed -- I even thought the beautiful songs (like "Nude") were just retreads of other, more potent songs (like "How to Disappear Completely"). I still think that they made a mistake including "Weird Fishes/Arpeggi" on the album, probably their most boring song since
Pablo Honey
. Now that that's out of the way, I was totally wrong.
In Rainbows
is the work of a band that's found its second footing after years of analysis and counter-analysis. It's a solid and composed work, with as many perfect moments as
Amnesiac
, and more than
Hail to the Thief
. The second half surpasses the first. "Faust Arp" brings back the unsettling paranoia of "In Limbo," and "Jigsaw Falling Into Place" and "Videotape" are as confident closers as they've ever done. This is still a band that may have some of their best work ahead of them, and
In Rainbows
shows that they're far from done.
72. Beirut -

Gulag Orkestar
I kind of hate Zach Condon in a way. He's a rich white kid who got to travel around the world and absorb all manner of eastern European traditional sounds. Oh, and he's a musical prodigy. Condon is now just 24 (he was 19 when he recorded this, which is why I hate him). The music, however, is undeniably beautiful. "Postcards from Italy" is an uplifting, danceable dune with ukelele (or something like it) and horn. You don't need to be in Budapest to love this stuff.
71. Mark Lanegan -

Field Songs
I had to put at least one or two albums on this list that my mom might like even more. That should tell you everything you need to know. Lanegan's voice is bluesy, coarse, pained. "One Way Street" opens with haunting night sounds -- backward-played guitars make it sound like ghosts are in the air. Lanegan's voice comes through: "The stars and the moon aren't where they're supposed to be / for the strange electric light it falls so close to me." Lanegan was an original member of the grunge band Screaming Trees, he did heroin with Kurt Cobain. He now does blues-rock, but his origins are clear in his whiskey-gargle voice. This is his best solo album since
Whiskey For The Holy Ghost
(hmm...whiskey and ghosts...how strange I thought of that independently).