The full list:
Honorable Mentions
,
100-91
,
90-81
,
80-71
,
70-61
,
60-51
,
50-41
,
40-31
30. The Knife -

Silent Shout
"Let me play you the first track off this Knife album," I was told about a month after the release of Silent Shout in the summer of 2006. We listened to the title track, starting with the thudding base and a simple falsetto of electronic beats. We'd just listened to Vitalic's Ok Cowboy (#100 on this list) and I was expecting a record of equal velocity. I was wrong, but far from disappointed. This is The Knife's third LP, but for me it came out of nowhere. The Knife is Swedish brother and sister team Karin Dreijer Andersson and Olof Dreijer, but their live shows hid their identity behind gimp and monster masks. The same theatrics are a wonderful complement to the live shows of Fever Ray, Andersson's other project (whose fantastic eponymous debut is ridiculously omitted from this list).
29. Sleater-Kinney -

The Woods
Forget that this is a girl group. They don't have anything to prove to
you
. They released one of the most frenzied-but-focused, hardest rockers of the decade. Their final album before splitting up in 2006,
The Woods
opens with a train wreck of guitars. If you can get through "The Fox" and want to keep going, you're ready for what Pitchfork called an "endurance test." Sleater-Kinney will rip you up and spit you out. In an era when female musicians split into two categories -- soulful singer-songwriter (Feist, Cat Power) or electro-vixen (the above-mentioned Karin Dreijer Andersson), Sleater-Kinney perform old-fashioned rock with more than a dose of distortion. "Modern Girl" is the only pop relief here; its slick bass line is infectious and comes as a perfect interlude. A fitting end to a socks-off band.
28. of Montreal -

Hissing Fauna, Are You The Destroyer?
Kevin Barnes' sexual anonymity (he's straight, fyi) has never been to his advantage as much as on his 2007 masterpiece, an absolutely stellar 12 songs that run up and down the pop ladder. The songs vary in length from one to 12 minutes, but all are precise and focused. The 12-minuter in question is "The Path Is A Grotesque Animal," a song that seeks to blend the album's (and Barnes') multiple personalities. It's the centerpiece of this hyper-pop, schizophrenic record. Barnes references his own up-and-down, half-of-two-minds mood in a most frank manner on "Heimdalsgate Like a Promethean Curse."
He says: I'm in a crisis, I need help, come on mood, shift shift back to good again.
The song's latter minute is an angry screed at the "chemicals" that control him. It's the best sounding mood disorder I know of.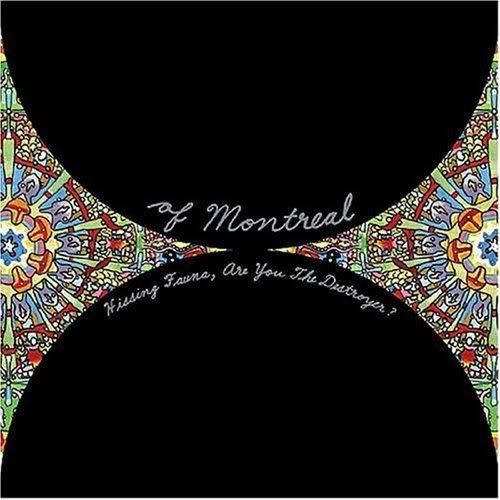 27. Kanye West -

Late Registration
Hip-hop has evolved more in the past five years than in the previous 20. Kanye is the only rapper to ever sufficiently display his vulnerabilities. I don't care what you say about Tupac -- Kanye is
the
emo rapper. If you get past the singles, past Jamie Foxx on "Gold Digger" and Pamela Anderson in the video for "Touch The Sky," you'll see a man who's practically begging you to tell him you accept him, that he's cool. He's ashamed of admitting that he's not in Broke Phi Broke (and never was, to be fair), he doesn't just back up his mama and grandma, he cries over them, he has songs ripped from his chest over them. Kanye considered
Late Registration
his entry into higher education, but really, he just ended up schooling all of us.
26. Interpol -

Turn On The Bright Lights
Despite the success of
Turn On The Bright Lights
in 2002, it's been a pretty rough decade for Interpol. Their follow-up album was solid but couldn't quite compete with
TOTBL
's success. They've been out of touch for the most part since -- further albums have fallen flat, the Pitchfork love is gone -- but we can't let that take away from how good their debut really is. Joy Division-comparisons aside, they wrote some fantastic 80s new wave-style songs and pulled them with great aplomb. "NYC," "PDA," and "Obstacle 1" are still remarkably entertaining, even if it's been over a year since I've listened. This was a point when we weren't sure about the future of music. It turned out not to be Interpol, but
Turn On The Bright Lights
will last far past 2002.
25. Spoon -

Gimme Fiction
Ga Ga Ga Ga Ga
is the fan favorite, but I give the edge to
Gimme Fiction
, a straight-up stellar rock album. No song Britt Daniel wrote before or since has matched the pure joy of when the chorus cruises in on "The Beast and Dragon, Adored," or the unhittable falsetto on "I Summon You." Though Spoon had already made waves,
Gimme Fiction
is what set them on their course to being everywhere. Ga Ga Ga Ga Ga made them a household name (or at least a college dorm room name) and Transference hit #4 on the Billboard Top 200. Pretty impressive for album #7.
24. Clipse -

Hell Hath No Fury
In a decade when hip-hop either blew up on MTV or wallowed in the underground, Clipse had hits that were right in the middle. Hell Hath No Fury is their great achievement -- enough songs about crack-dealing and the need to shine on in Italian sports cars to make even the more popular rappers jealous. Just listen to the horror-film space-cadet beat on "Trill" to see how Clipse transcend the Westside-Eastside antics and work to simply thrill captive listeners. True. Real.
23. My Morning Jacket -

It Still Moves
At a My Morning Jacket show in 2004, Jim James expressed his slight dismay that his group were considered hippies (by whom, we'll never know), just because of their long beards and very long hair. That's not so much a problem now, but back upon the release of
It Still Moves
, it was unclear if MMJ had a greater plan, so hidden were those faces behind auburn hair. The new MMJ is less southern, less country, less folksy and jammy. They're still fun and compose fantastic songs, but
It Still Moves
captured them at their wondrous, rockabilly best. The tandem of "One Big Holiday" and "I Will Sing You Songs" are a perfect balance -- the high and the low, the anxious and the secure. It hasn't stopped moving.
22. Sun Kil Moon -

April
Mark Kozelek was thoroughly unintimidated by the 2000s. In a decade where music was distorted, reverberated, danced-up and beat-down, Kozelek continued to write quiet, exploratory songs. But, they're not simple songs. The first two tracks on
April
run over 16 minutes, and each is packed with thought and discovery. His music is all about memories, those faded images we all have and apply to entire experiences. Just look at the album cover. When you see something like this, you're either in a Sun Kil Moon album or a Tarkovsky film.
April
is Kozelek's most beautiful album, a collection of songs melancholy but effortlessly fulfilling. The music is subtle enough that you might even be able to doze off if you're in the dark on a bed...but don't expect to not have haunted dreams.
21. Animal Collective -

Strawberry Jam
If you've questioned my obsession with Animal Collective, leave now. The rest of this list will annoy you. Another in a string of masterpieces that AC have released since they hit their stride in 2004,
Strawberry Jam
might very well have pushed them right up to the mainstream, before
Merriweather Post Pavilion
launched them over the Top 40 fence. It was, at the time, considered their most accessible record, though you wouldn't have known it from being thrust into "Peacebone" right off the bat. However, no listener could forget the duo of "For Reverend Green" and "Fireworks." The euphoric collection of Panda Bear's "oohs" and "aahs" and Avey Tare's yelps are a highlight of their (or anybody's) careers. If
Sung Tongs
and
Feels
were a bit too out there (still) for the community,
Strawberry Jam
was the sweet, gooey, sugary pop to get everyone to the table.